MultiFunctional Tactical Hiking And Walking Trekking Pole, Collapsible Adventure Stick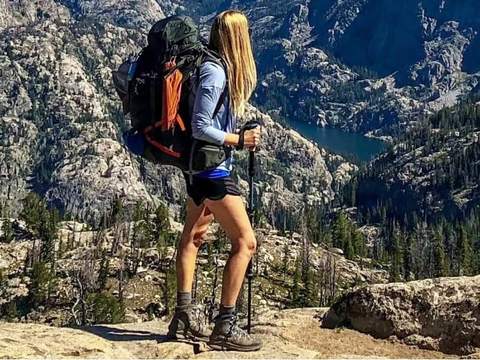 Why Trekking Poles?
Trekking poles are simple to use and provide a load of support for both hikers, walkers, and backpackers of all ages. Whether you're crossing flat surfaces or probing uncertain terrain, they can provide stability, relieve pressure from your body, and also help to establish and maintain a consistent rhythm and increase speed.
Better your journey from the start to wherever you choose to finish
This set of super light trekking poles can make any outdoor excursion—from walks and hikes to backpacking and snowshoeing treks—more enjoyable. The adjustable poles lend support on all kinds of terrain and the lightweight, collapsible design makes it easy to take a pair along with you.
Designed for everyday use by trail runners and day hikers, the Distance Z is our most affordable Z-Pole with lightweight aluminum construction. Now improved with our SlideLock technology and increased joint durability, the Distance Z provides reliable three-season support for a wide array of mountain adventures.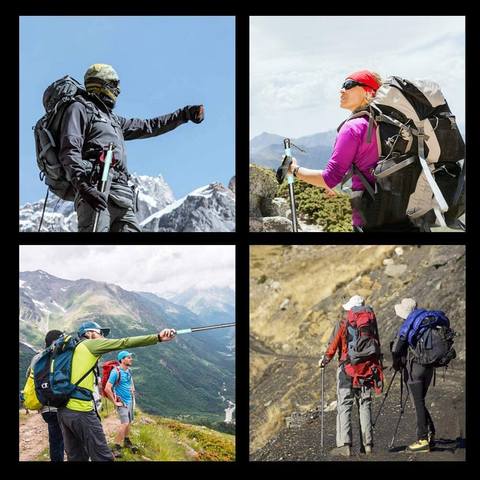 Multi-Tool:
Our multifunctional tactical trekking pole contains Multiple survival tools to help you handle all sorts of dicey situations on the go (Multifunction knife, multi-function fork, screwdriver, whistle, etc.).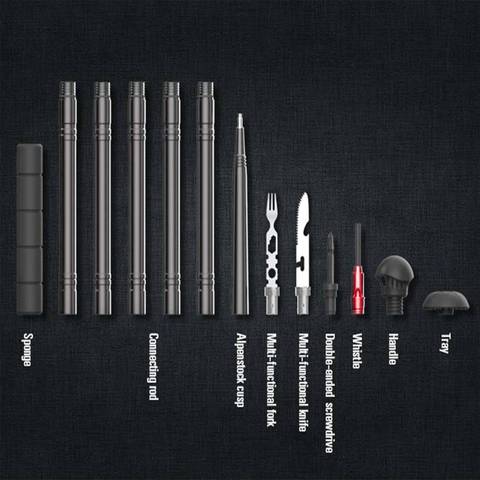 Features:
✔️ Easy to use.
✔️ Much Better Balance & Stability.
✔️ Ergonomic handle.
✔️ Multifunctional.
✔️ The tip can be changed, allowing you to use different tools.
✔️ Works in All Weather Conditions.
✔️ Adjustable Pole Length.
SPECIFICATIONS:
Shaft Material:

Aluminum

Joint Number:

4

Handle Material:

Foam

Stick Tip:

Rubber Tip

Handle:

Straight Grip Handle

Model Number:

WG-G06

Outdoor Activity:

HIKE

Product:

Trekking Poles

Style:

Outdoor Gear

Material:

Aluminum model 6063

Colour:

Black

Gray handle wall thickness:

3.5MM

Length:

115cm

Extend length:

18.5cm

Diameter:

2.2cm

Product Net Weight:

0.35KG

Product gross weight:

0.7G

Type:

Tactical Walking Pole

Usage:

Survival Hiking Stick, Selfie stick

Occasion:

Camping, Tourism, Outdoor, Finishing, Climbing, Hunting

Shipping:
✔️Orders are typically processed and shipped out in 1-3 business days.
Delivery
✔️may range between 3-7 days depending on the shopping season or high demand for our Products. We do our very best to get the products you love to your doorstep as fast as possible.
OUR GUARANTEE:
✔️Free Insured worldwide shipping
✔️24/7 customer support (Real People Behind the Desk)
✔️30 day money back guarantee (Risk-Free)
✔️Tracking number